frui
nergy Relaxation
is the delicious association of apples and plants known for their relaxation benefits, acting in synergy.
Hawthorn (Crataegus laevigata) to fight stress.
Orange Blossom (Citrus aurantium) to reach an optimum level of relaxation and fall asleep naturally.
Lemon Balm (Melissa officinalis) to help with troubled sleep.
Rich in magnesium, frui
nergy Relaxation
contributes to normal psychological and nervous system function.
Rich in magnesium

Rich in fiber

No added sugar

No preservatives

Gluten free

100% natural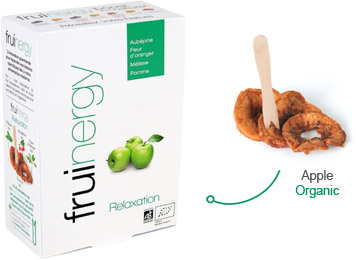 4
to
5
rings of
frui
nergy Relaxation
per day with breakfast or for snacks during the day...
Lemon Balm


Organic

•

Hawthorn


Organic

•

Orange Blossom


Organic
frui

nergy Relaxation

is made with environmentally friendly techniques. Its carefully selected ingredients add up to a high quality product with authentic taste.
Guideline Daily Amounts per 100 g
GDA: Guideline Daily Amounts indicate the amount of energy and nutrients used by an adult with an average daily intake of 2,000 Cal.
12%
51%
0%
0%
1%
Calories
Sugar
Fat
Saturated Fat
Salt
Nutritional value per 100g
230 kcal (976 kj)
Energy value
0,9 g
Proteins
53,3 g
46,3 g
Carbohydrates
including monosaccharides and disaccharides
0 g
0 g
Fat
including saturated fat
6,7 g
Dietary fiber
0,03 g
Sodium
130 mg (35% of DRI*)
Magnesium
*DRI : Dietary Reference Intake, which are guideline daily amounts for vitamins and minerals corresponding to the requirements of an average adult.