Where to find fruinergy ?


frui
nergy Fibers & Digestion
combines prune with a choice of plants traditionally used to facilitate digestion.
Peppermint (
Mentha piperata
) is known as a stomach purifi er and contributes to the intestinal health.
Rosemary (
Rosmarinus officinalis
) stimulates digestion and helps alleviate upset stomach.
Fennel (
Foeniculum vulgare
) has a true antispasmodic action.
frui
nergy Fibers & Digestion
is rich in fibers and a source of chlorides which contribute to a normal digestion thanks to the production of hydrochloric acids in the stomach.
Source of chlorides

Rich in fibers

No added sugar

No preservatives

Gluten free

100% natural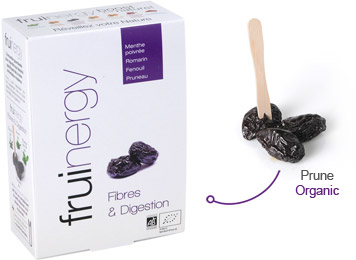 3
frui
nergy Fibers & Digestion
per day with breakfast or for snacks during the day...
Rosemary


Organic

•

Fennel


Organic

•

Peppermint


Organic
frui

nergy Fibers & Digestion

is made with environmentally friendly techniques. Its carefully selected ingredients add up to a high quality product with authentic taste.
Guideline Daily Amounts per 100 g
GDA: Guideline Daily Amounts indicate the amount of energy and nutrients used by an adult with an average daily intake of 2,000 Cal.
11%
35%
0%
0%
1%
Calories
Sugar
Fat
Saturated Fat
Salt
Nutritional value per 100g
216 kcal (916 kj)
Energy value
1,9 g
Proteins
48,8 g
31,9 g
Carbohydrates
including monosaccharides and disaccharides
0 g
0 g
Fat
including saturated fat
6,8 g
Dietary fiber
0,02 g
Sodium
180 mg (23% of DRI*)
Chlorures
*DRI : Dietary Reference Intake, which are guideline daily amounts for vitamins and minerals corresponding to the requirements of an average adult.